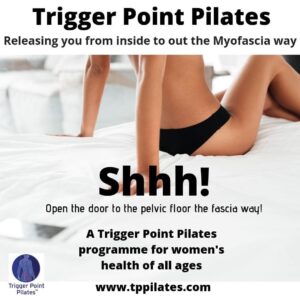 Triggerpoint Pilates Shhh is a pelvic-based programme which helps ease pelvic pain and lower back pain, improve pelvic floor issues like incontinence and hypertonic pelvic floor, helps strengthen the core, helps with Diastasis Recti and Pelvic Organ Prolapse.
We do this by using Triggerpoint therapy which involves a foam roller, massage balls and Pilates ball.
Please ensure you chat with me before booking if you experience anything listed above or any other pelvic issues to ensure it's the right class for you.  And if you need equipment I can advise where to get this.  This class can be done when pregnant also.
We work lots around the pelvic area to help realign, ease pain and improve imbalances as well as working on optimal pelvic floor engagement.
The class is run via ZOOM and fully recorded so if you miss the session it gets emailed out afterwards for you to catch up on.  This session will be running on the last Tuesday of every month and each session will be different.
Our next session is Tuesday 27th April 2021 and it costs £12.