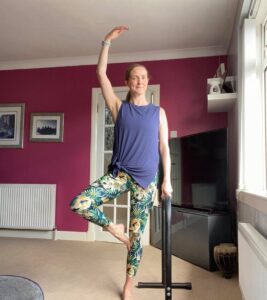 Hello and thank you for visiting.  My name is Pamela McCrory and I have been working in the fitness industry for over 20 years with positions including Fitness Instructor, Group Exercise Instructor, Fitness Manager, Personal Trainer and Group Exercise Manager.  These positions along with my BSc (Hons) in Nutrition, have given me vast, successful experience in the industry.
I have been running Flaunt It Fitness since 2007, providing an array of services including general group exercise classes, pregnancy specific classes, post-natal specific classes, online nutrition and exercise plans and now a complete virtual class timetable.  I am the proud creator of Core Essentials for Optimal Core & Pelvic Floor Recovery (post-natal), Fit for Delivery (pregnancy) and my up and coming Better Body Balance programme for optimal women's health.
As women, we can go through major events in our lives, from preparing to conceive, pregnancy and birth, post-natal recovery, peri-menopause and menopause.  Our wants and needs change at these times and this is where I come in.  I have spent the last few years studying and scrutinising these stages of our life to offer top, evidence-based, advice and guidance to help you through it. I am with you all the way.
As a busy mum, I understand the stresses we can have in our lives with trying to 'do it all' and we can often put everybody else in front of ourselves.  This can have a knock-on effect on our lifestyle, exercise regime and overall health.   It is not a case of jumping back into the eating and exercise plan we followed in our 20s or early 30s because our bodies and our minds are different, so we need a different approach.  We need much more of a health focus, particularly as women as the hormonal changes we experience can affect our heart, brain, bone, mental, and pelvic floor health and metabolism.  Focusing your lifestyle, nutrition and exercise regime on these aspects is much better for your overall wellness and balance.
Flaunt it Fitness is a community, not just a standard fitness class.  This is clear when I run events, such as Chatty Mums, Self-Care Sesh, Know Your Core & Pelvic Floor and Know Your Hormones. These events are educational and sociable, which is also an important part of wellbeing.
Please have a look around the website and if you have any questions, do not hesitate to ask.