Description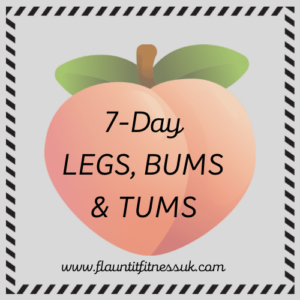 This is by far one of the most popular of our 7 day programmes and it does not disappoint.  All the workouts are focused on toning, strengthening and stretching these areas and your guaranteed some amazing workouts.  We use a mini band so make sure you have one of those before you start.  Your workout videos include HIIT, Fitness Pilates, Tabata, Deep Stretch, Fitness Yoga and they last between 10-20 minutes.
You can follow the plan via the 2 downloads you get in your confirmation email and you'll also find he link to the Facebook group in download 1 if you use social media and want to be part of the group.
Once you have purchased, you have eternal access so you can spread the workouts out and repeat as often as you'd like or just get stuck in and do your 7 days.
This programme is ideal if you are just starting out or you're used to exercising and want a challenge or you'd like to focus on these areas a bit more.
If you have any injuries or conditions that affect your exercise (including being pregnant or within 1 year of having your baby) or you're just starting out drop a message so we can chat through any changes we may need to put in place for you.
When you sign up, you get a confirmation email send your 2 document are downloadable form that email.  Any question just ask.
Look forward to having you on board.
Pam xx